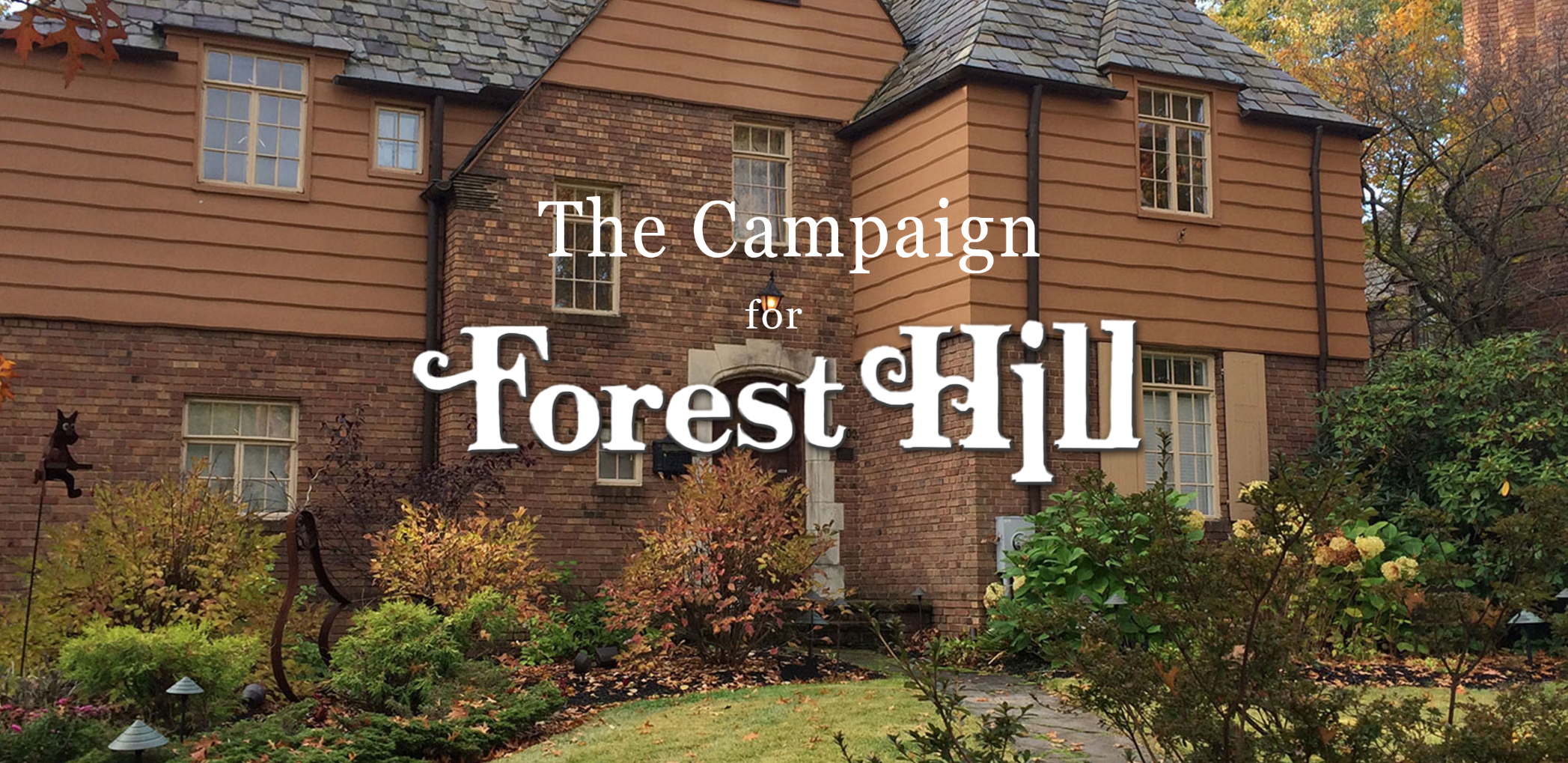 E-Reilly Consulting has been a driving force behind the Campaign for Forest Hill (CFH), which was founded as a response to falling property values of homes in the neighborhood.
Mike and Fiona Reilly, two of the founders of the campaign, have lived in Forest Hill for over thirty years and own multiple homes in the neighborhood. Forest Hill is where they raised their children and made a life for themselves. Once they noticed various homes becoming vacant and neglected and lowering property values in their beautiful neighborhood, they knew they couldn't just sit idly by and let it happen. The Forest Hill Homeowners Association (FHHO) was not sufficiently addressing this issue. One of the main purposes of FHHO, as stated on their website, is to "promote, safeguard, and improve the property values in and the general welfare of the community known as Forest Hill", yet they were hosting garden parties and book clubs instead of dealing with these homes. The FHHO was not doing its job, and after countless tries to encourage FHHO to tackle these problem homes, Mike and Fiona decided to take matters into their own hands–thus the Campaign for Forest Hill was born.
E-Reilly's main goal is to re-brand Forest Hill as the next Tremont. It is a beautiful neighborhood with historic homes that is in close proximity to University Circle. Lindsey Reilly, E-Reilly's founder, was raised there, and has a deep love for quiet, tree-lined neighborhood. Forest Hill is full of friendly neighbors and beautiful homes, yet there are some owners that have let their homes fall into disrepair and abandon, and even one blighted or abandoned home on a street can lower property values. Before Forest Hill can become re-branded as the next Tremont, these blighted homes must be identified and taken care of.
 E-Reilly is achieving this goal by conducting a census of Forest Hill and collecting data on homes that are abandoned and/or violating building codes. We have been creating individual plans for each home, all of which will be discussed with local title companies, banks, and realtors. Our goal is to get as many homes cleaned up and on the market as we can.
 Our marketing team has also been using the power of social media to leverage CFH by garnering community involvement and attracting investors. We have created CFH pages for Facebook, Twitter, and Instagram, and we are incredibly active on Nextdoor.
 In the next couple of weeks, as Cleveland prepares for the Republican National Convention in July, our team will be contacting major news outlets like The New York Times and Washington Post, while Cleveland is in the national spotlight. By bringing the community together, CFH's voice will become much louder–getting residents involved allows change to happen FASTER. A complaint about a blighted home from one person may not get noticed, but it will sound the trumpets if ten or twenty people complain. CFH will function as the squeaky wheel to break down the door of inaction.
 We look forward to sharing more news about the Campaign for Forest Hill. In the meantime, check out our website for the latest campaign developments – www.foresthillcampaign.com